TimeCutter® MX zero turn mowers offer the same time-saving speed and agility of a TimeCutter® SS with the added strength and durability of a fabricated deck and heavy-duty transmissions. The convenient hour meter and height of cut assist pedal also help you work smarter, not harder.
The TimeCutter MX 5075 zero turn riding mower is powered by a 24.5 hp Toro® OHV V-Twin cylinder engine. It features a 127 cm, 10 gauge steel fabricated cutting deck and convenient washout port. Mow in the ultimate of comfort sitting on an MyRide® suspension system deluxe padded premium seat with adjustable armrests. It also features a Smart Speed® control system with three speed range – Trim, Tow and Mow for precise control and easy maneuvering.
Machines4u is back with another amazing giveaway for Elmore 2018! If you missed out on winning our TYM Tractor at last years field days, be sure enter for your chance to win this amazing Toro TimeCutter!
For your chance to win this prize simply fill out the form below! We'll be drawing one lucky name out of our prize barrel on Thursday, October 4th at 1pm. If you're not around, don't worry will give you a call to let you know you've won. It's that easy!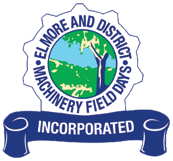 From humble beginnings in 1964, Elmore Field Days has gained recognition as one of Australia's premiere agricultural Field Days.
As a community owned and run, not for profit organisation, Elmore Field Days is focused on providing an unbiased service to agriculture and community with flow on economic benefit to regional areas.