Hoax messages, also known as scams or phishing, can come in all shapes and sizes.
Have you received an email out of the blue asking you to 'confirm' your payment details or threatening your account may be suspended? Fraudsters often target major websites  with phishing emails in an attempt to harvest your login email and passwords and compromise your accounts and personal information.
ALWAYS CHECK THE URL OF ANY LOGIN PAGE FOR AUTHENTICITY
Check the address exactly, scammers will often build fake pages that look identical but only have a single letter of the domain name extra or missing
example scam domain:   mahines4u.com
note the missing "c" in the domain and the fact it's not an australian .com.au
---
What you need to do if you receive a hoax message:
Delete the email or SMS immediately
Please contact Machines4u immediately  on 1300 092 545 if you have:
Clicked on any links or downloaded any attachments
Responded to the hoax email, SMS or phone call with your login or card details
Noticed any unusual payments to machines4u.com.au
Here is an example of a scam email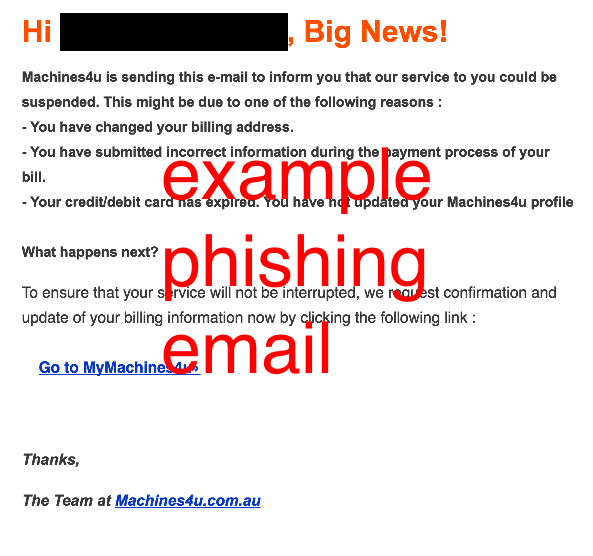 Beware of Scammers

Be informed. Be vigilant. If something doesn't feel right, it probably isn't…

Types of Scams

Report a Scam

Other resources
SMS Scams
With advances in technology, there are now internet based sms services which can be disguised to appear as a local phone number of choice.
Scammers pose as genuine machinery buyers and send sms enquiries. When the seller responds, the "buyer" claims they are overseas/offshore and needs a 3rd party to pick up the machinery (often incurring fees, which they will ask you to pay which later they will reimburse). This of course never happens.
The phone numbers that send the sms can't be called back and the sender often requests contact only by email. Unless you are able to call the number and speak to the person sending the text message we advise that you disregard these queries and report them to Machines4U immediately.
Phishing Scams
These scams try tricking people into providing personal and sensitive information such as credit card & banking details.
They're usually via fake emails sent from "reputable" sources originating from the target company i.e. your financial institution. The email recipient is asked to click on an included link in the email which will then redirect to an official-looking website that will look almost identical to the real company web page (same logos, images, structure, menus etc).
Once on this website the user is prompted to log in using their username and password and/or supply credit card and banking details or other personal information such as phone numbers and address. All this information can then be collected by the scammer and inappropriately used.

There many variations of this scam – the most common is asking for personal and account details within the email itself to be emailed back, without redirecting to a website. Another variation is tricking email recipients into installing a Trojan on their computer by opening an email attachment or downloading a file from a website. This then collects information from the infected computer.

Scammers rely on the law of averages and send these emails in bulk in the hope of fooling a small number of individuals. If only a small number of people fall for the bogus emails and provide details, the scam can still be a success.
Classifieds Scams – Buyers
Scammers will attempt to post bogus online advertisements posing as genuine sellers. In most cases it will include pictures and other details to make the advert seem legitimate. To make a quick dollar, the scammers may advertise prices well below market value to lure unwitting customers.
When a customer enquires, the scammer may claim they are overseas, working on an offshore oil rig, travelling etc and an agent, relative or colleague will deliver the machine after payment. After payment has been made you might receive an official looking email receipt however, the machine will never arrive and contact with the seller will be lost along with your funds.
Never accept or make payment through mediums such as PayPal, Western Union or MoneyGram. These are not designed for transactions between complete strangers and are insecure forms of payment when buying machinery.
Classifieds Scams – Sellers
Scammers pretending to be genuine buyers also target sellers online. They claim to want to buy your machines but will make up stories such as needing your help to pay an agent or third party for upfront costs like transportation or insurance. The scammer will promise you reimbursement for these costs, however once you have paid, there is no reimbursement and it is often too late to recover the money and/or contact the 'buyer'.
A common variation of this scam is when the scammer, posing as a genuine buyer, makes a generous offer for the machinery you're selling. If you accept the offer, the scammer then sends you a cheque, but the cheque is for more money than the agreed sale price. The scammer will invent an excuse for the overpayment, for example to cover the fees of an agent or extra shipping costs – or they might just say that it was a mistake.
The scammer will then ask for a refund of the excess amount—usually through an online banking transfer or a wire transfer. The scammer is hoping that you will do this before you discover that their cheque has bounced. You will have lost the money you gave the scammer, and if you have already sent the machine, you will lose it as well.
Never accept or make payment through mediums such as PayPal, Western Union or MoneyGram. These are not designed for transaction between complete strangers and are insecure forms of payment when buying machinery.
Warning Signs




Unsolicited requests for sensitive information through email
Disguised hyperlinks & sender address
Email consists of entirely one clickable image
Generic greeting as scam emails are usually sent in bulk
Offers too good to be true
Machinery advertised at a price considerably lower than market value
"Buyers" willing to purchase your expensive machinery without having viewed it
Overseas "Buyers" interested in your machinery despite it being available in their home country for a comparable cost, whereby the transport costs would outweigh the cost of the machinery itself
Transaction terms which require PayPal, Western Union, MoneyGram or other questionable payment periods or methods
"Buyers" from overseas/offshore who would like a third party (agent, friend, relative) to purchase the machinery and arrange payment

 

If You Suspect a Scam

DO NOT click on any links in the scam email

DO NOT supply any personal information of any kind

DO NOT reply to the email or attempt to contact the senders

DO NOT supply any information on the bogus website that may appear

DO NOT open any attachments that arrive within the email

DELETE the email from your computer immediately

 

ALWAYS make sure anti-virus software, malware detection software, firewalls and internet browser security settings are up to date.

Scammers often give these reasons to entice you to click:

The customer's account details need to be updated due to a software or security upgrade
The customer's account may be terminated if account details are not provided within a specified time frame
Suspect or fraudulent activity involving the user's account has been detected and the user must therefore provide information urgently
Routine or random security procedures require that the user verify his or her account by providing the requested information